Zuria Dor is a brand built on serving the individual needs of every client with unrivalled quality, authenticity and customer experience. In order to guarantee the highest quality of our products, Zuria Dor calls upon the expertise of its designers and craftsmen.
Fundamental to the heritage of the brand, Zuria Dor is devoted to ensuring that the craftsmanship is nurtured and that the skills are not only passed on but also developed and modernised.
INITIAL CONSULTATION
Once you have seen something you love, you will have a one-to-one personalised consultation at our Lahore Showroom, or via Call/Whatsapp. During the consultation, we will discuss the occasion, your style, what you like and dream about wearing that event.
You can show photos and colour inspirations. We will show you the latest styles and silhouettes, as well as colour palettes with fabrics and embroideries.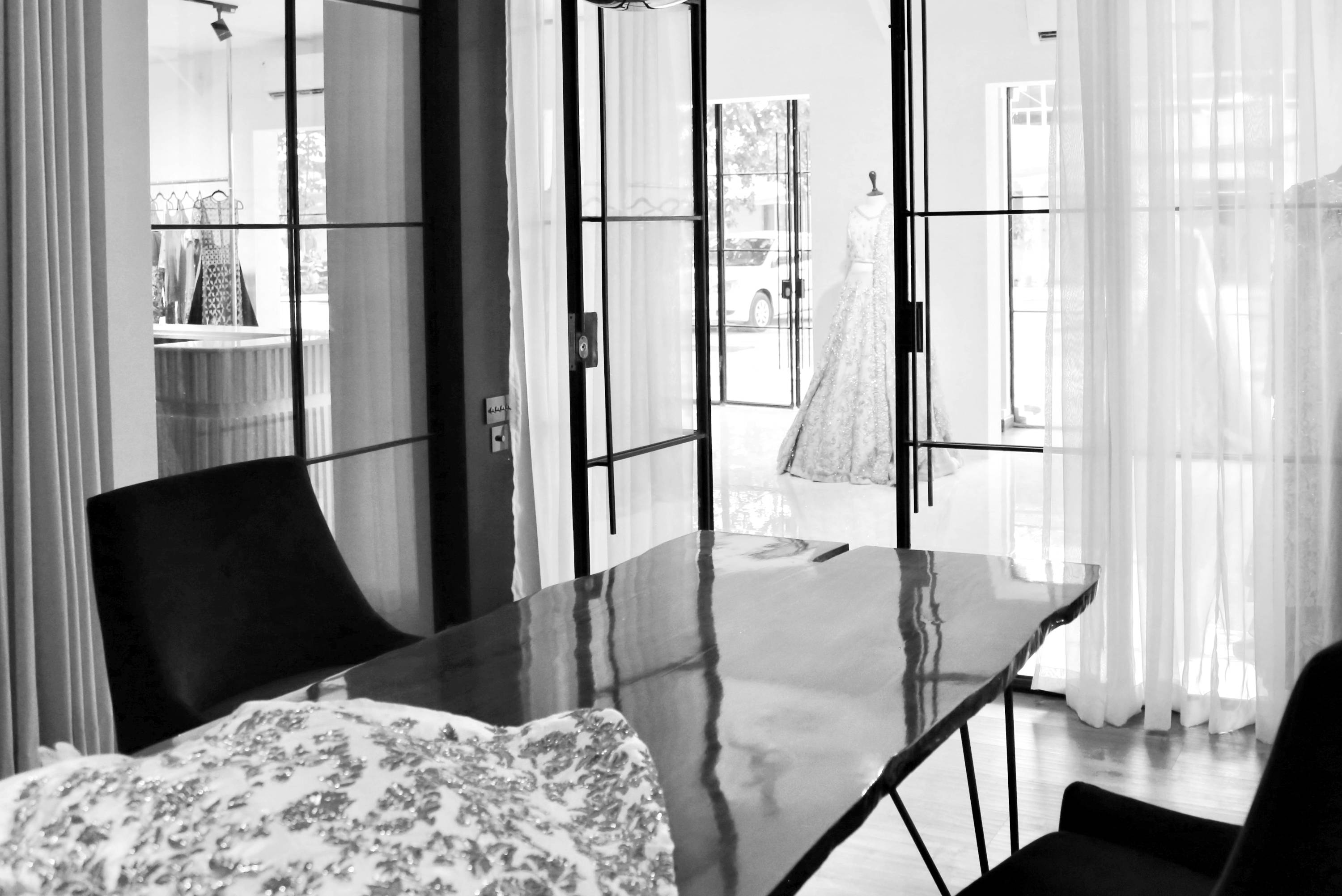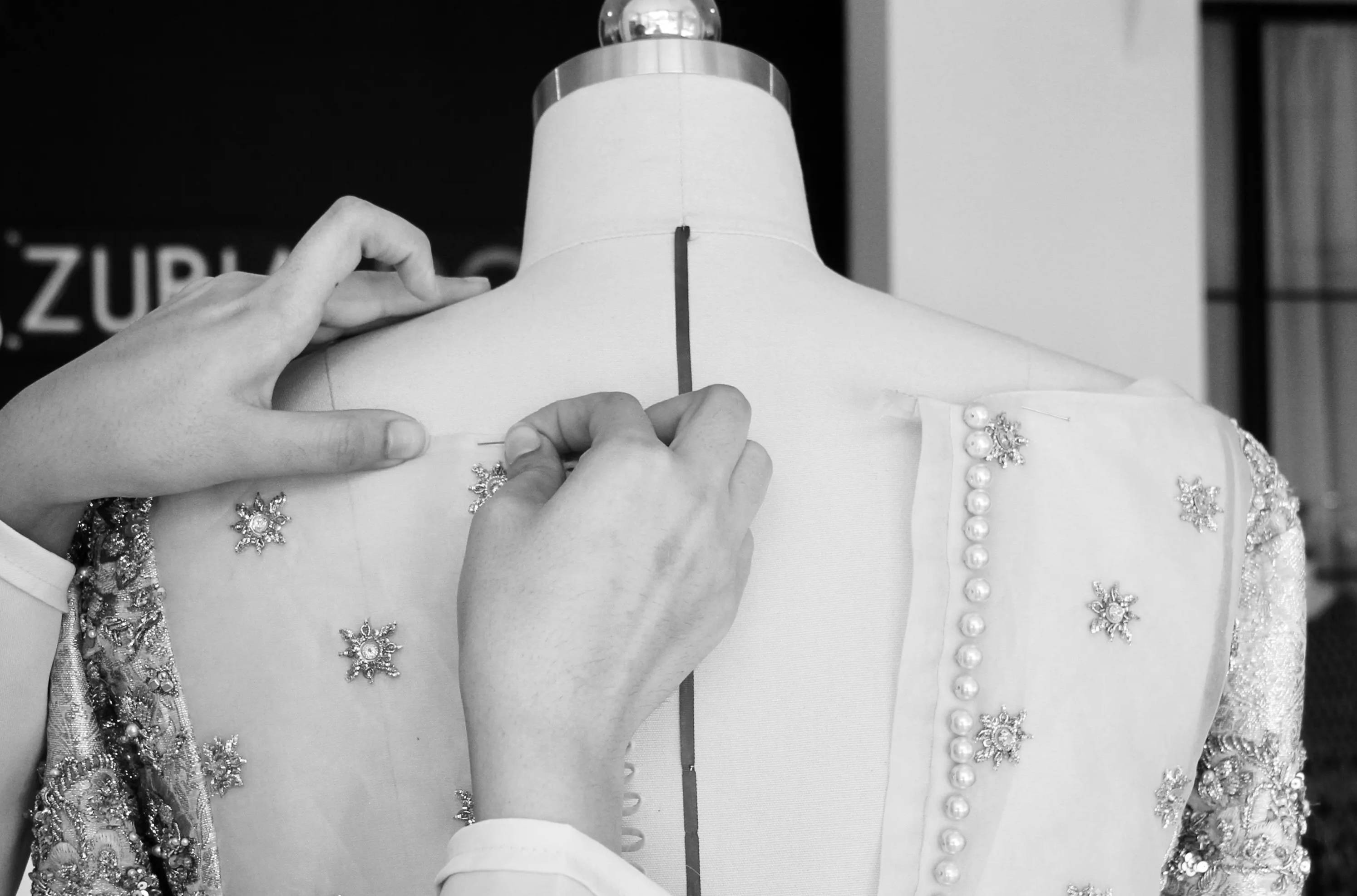 MADE FOR YOU
Zuria Dor designs are made using your personal measurements. Our skilled team will measure you during the Consultation.
Depending on your preference and your comfort, your personal measurements can also be shared online and assessed by our team to determine any anomalies.
BESPOKE DESIGNS
For custom designs, our designers will have an initial consultation to better understand your needs and will create a design with a sketch especially for you. Once this design is complete, a second appointment will be booked for you. During this consultation, you will approve the design, and make any adjustments needed prior to starting crafting the unique piece.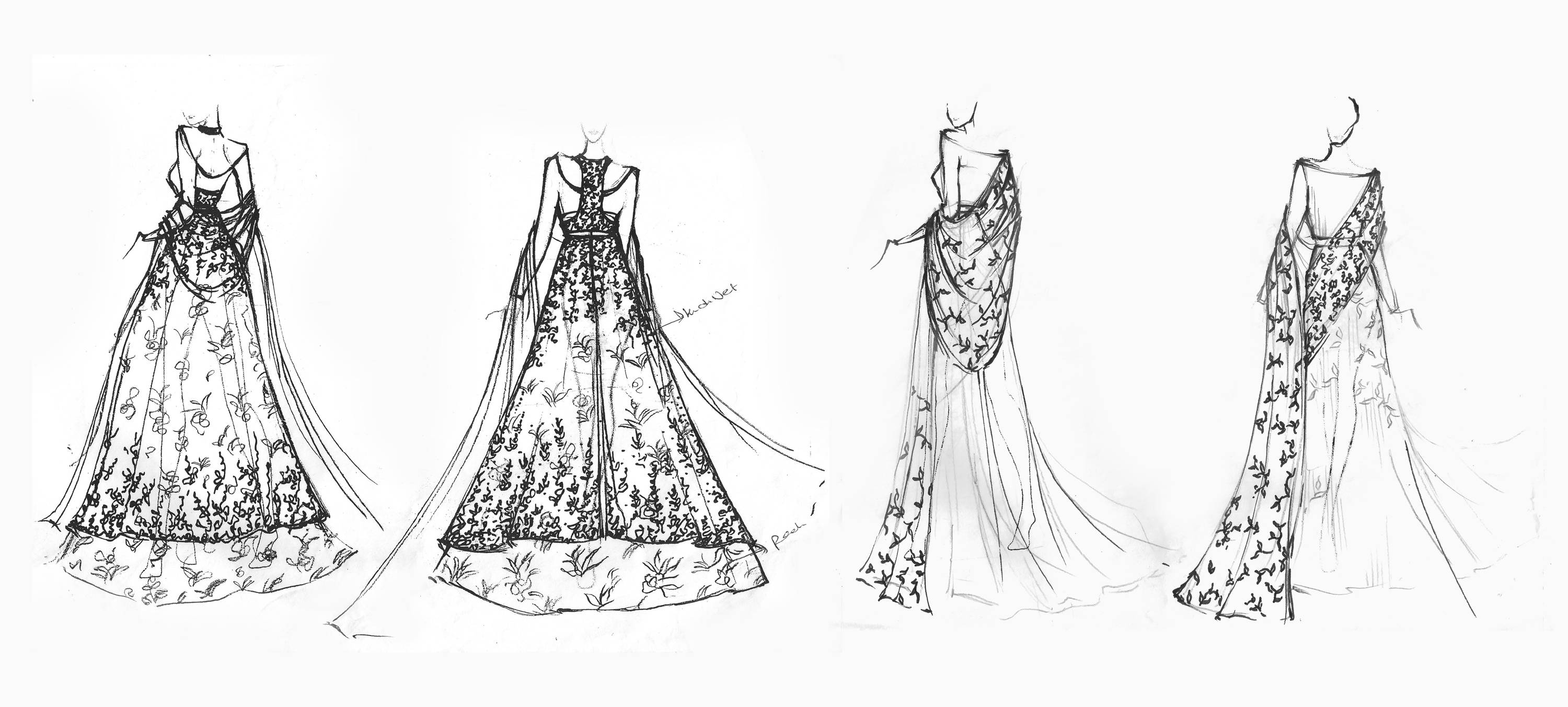 TOILE FITTING
Once the drawing is received from the design studio, work is set on toiles. At least two fittings are required to achieve the perfect result. These fittings involve an exchange of technical assessment.
Our team of over 150 couturiers take each design and shape, then build sculpt and transform them until the toile silhouette is transformed.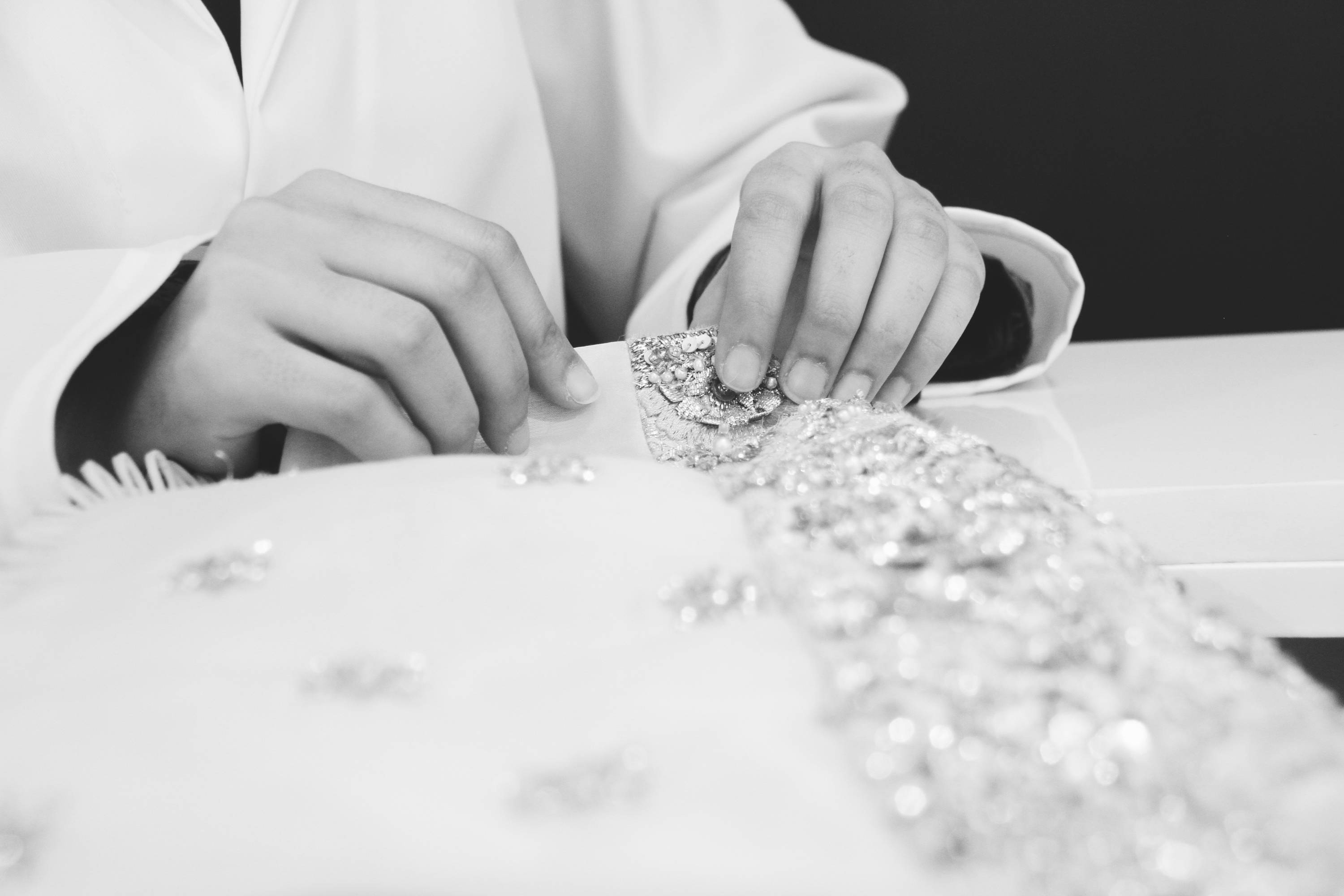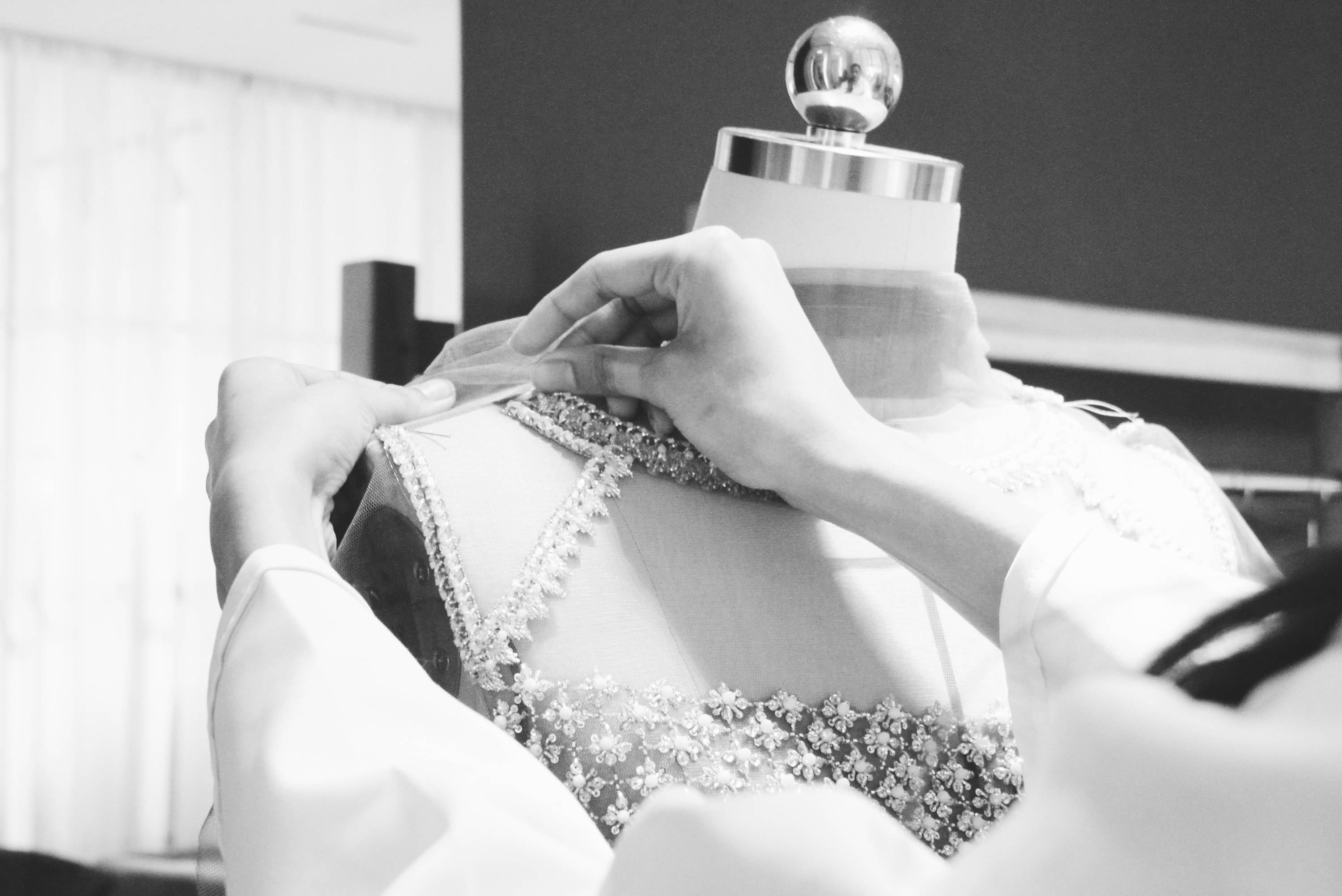 ASSEMBLY
The fabrics are cut, pinned and sewn. With the threads passed around the pattern, the work finally becomes three dimensional. The pieces are then ready for assembly.
The different elements of a dress are now assembled and arranged on a mannequin. We use a traditional hand-stitching technique for areas where fabric must fall well.
FINAL FITTING
The hand-crafted design takes anywhere from 1000 hours to create and at least 3 full-time tailors, overseeing the smallest details to the more eye-catching aspects. Our team will make sure the peice sits properly on your body and fits like a pair.
A personal process, the development and creation of a design can take several months to complete, as the design is passed from the technical pattern team to our embroidery department and finally to you. Throughout the process, the piece may pass through the hands of forty artisans, each individually an expert in their field.